Who brightens up your life and helps others around them shine? I'm lucky to have met many wonderful people doing exactly that. In celebration of International Women's Day, here are 8 inspirational women who make a difference to others' lives.
Jemima Willcox: shining a spotlight on women in tech
Jemima is a photographer. A couple of months ago she teamed up with Cambridge Women in Tech to launch the ElevateHER campaign, highlighting women in an industry where they are underrepresented. Cambridge is a tech city, the region is dubbed Silicon Fen. But less than 20% of the UK's digital workforce is female.
ElevateHER is shining a light on female tech icons. Jemima launched a public call for nominations in the hunt for six women to take part in the project. She will be photographing them and putting on an exhibition of their portraits later in the year.
Lenka Koppová: helping people market their small businesses
Lenka is the founder of Cambridge Social Media Day, which grew out of the Meet Up she started in 2017. She wanted to create a conference for business owners in Cambridge like the ones she had been to in London and further afield. Lenka is an amazing networker. Walk into any event in Cambridge and most people will know who she is. I've found the same at conferences as far away as Newcastle. She has been able to bring some brilliant speakers to Cambridge as a result.
Investing in yourself is a vital part of running your own business. But this can cost a lot of time and money. By creating Cambridge Social Media Day, Lenka has given people access to knowledge and inspired them to have a go at new ways of marketing their business or charity. She has also given attendees a taste of the benefits of taking time out of the day to day running of their business to go along to an event and learn.
Lucy Hall: empowering women through digital skills
I've never met Lucy but I know her by reputation as the founder of Social Day in London. This year she has developed the Digital Women Awards, which take place tomorrow. I found out about them when I got an email saying I had been nominated. I'm delighted to be a finalist and have loved learning about all the other wonderful women Lucy is shining a spotlight on through these awards.
Lucy has put together a list of 40 Women To Watch. It's an inspiring group. Check it out and get following everyone on it.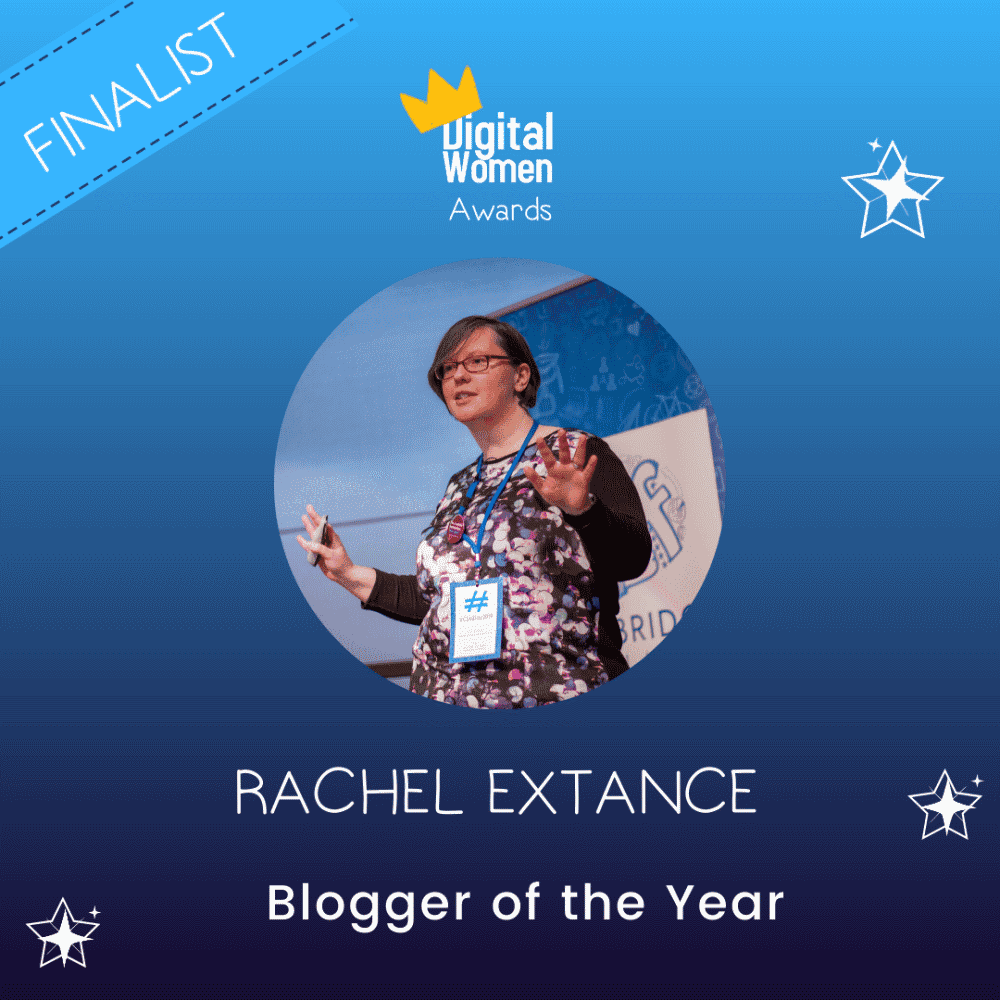 Cathy Wassell: helping teenagers feel less lonely
I met Cathy through Digital Mums. She had completed the course ahead of me and was blazing a trail on podcasts and working to support other women finding their feet as independent social media consultants. Recently, she launched a new project, Teen Calm, with her daughter. 
Teen Calm is designed to help anxious teenagers. Kids these days are under pressure like never before and children's mental health services are stretched to breaking point. Cathy wanted to find a way to help teenagers unwind and know that they are not alone. Teen Calm is a subscription box, full products to reduce stress and help youngsters relax.
Berenice Smith: helping people who are childless not by choice
I know Berenice as a designer but she has another role as the founder of Walk In Our Shoes, supporting people who are involuntarily childless. People often assume that others have children, or want children, and don't realise that for lots of people, conversations around this are painful. Berenice has created a safe space for people to talk about their experiences and find support. 
Recently, she launched The Full Stop Podcast with Michael Hughes and Sarah Lawrence, talking about miscarriage, IVF and infertility. Her work helps people who often experience grief alone.
Julia Simmons-Collar: helping children through sensory musical theatre
I met Julia at university 20 years ago. Nowadays she creates accessible theatre for children and people with complex needs through her company Collar and Cuffs Co. People experience the world in different ways. Julia's work enables children to understand every day situations they might find overwhelming and also creates experiences people might not have otherwise. Her shows deal with issues from toilet training to feeling upset.
Her company's latest production is Alice and the Very Happy Unbirthday Party, helping children prepare for birthday parties, which can be overwhelming. 
May King Tsang: shining a spotlight on businesses and events
I have never seen anyone tweet as fast as May King! "So what?" You might ask. Well May King's fast fingers help event organisers get the word out about what they are doing. May King is a FOMO creator – making (or mayking) people wish they were in the room where people are having a great time. Her tweets, Instagram and Facebook posts, amplify what is going on. It helps event organisers sell tickets, sponsors to reach new customers, and businesses to raise awareness of their brand.
As well as tweeting what's happening in the room, May King records interviews with organisers and attendees. They're great to watch and provide social proof. Nothing sells what you're offering like enabling people to see and hear you in action, sharing knowledge and being yourself.
Jenny Flintoft: helping people be better in their roles
The first time I saw Jenny was on stage at the Youpreneur Summit. She was down to earth and inspiring at the same time. She had a wonderful ability to help you put things in perspective. To see that you could both reach for higher things and accept that they might be a way off yet.
I follow Jenny on Instagram where she shares wisdom aplenty. She has also been giving shout outs to women to follow on there for International Women's Day. Jenny helps people shine and her enthusiasm is infectious.
Who would you like to shine a spotlight on? Let me know in the comments.